Basement waterproofing is a must for any homeowner who wants to effectively protect their basement from water damage. It's important to take the necessary steps towards basement waterproofing in order to keep your basement dry and defend it from potential flooding. The most effective basement waterproofing methods involve installing either interior or exterior drainage systems, coating basement walls with sealants, and using sump pumps. Interior basement drainage systems use channels that are installed along the perimeter of the basement's inner wall and redirect water away from the basement floor.
Exterior basement drainage systems are usually composed of plastic piping, which collects water seeping through the basement's foundation walls and directs it away from the house. Sealant coatings can be applied not just on basement walls but also on basement floors and other basement surfaces to form a watertight barrier. Sump pumps are used to collect water from the basement floor or drainage systems and then pump it away from the basement. These basement waterproofing solutions can help keep your basement dry and free from water damage in the long term. It is recommended to consult an experienced contractor for advice on which solution is best for your particular circumstance. With proper basement waterproofing, you can give yourself peace of mind knowing that you won't need to worry about water leakage in your basement any longer. ​Water seepage and flooding can be easily prevented with basement waterproofing. This will lead to a longer lasting and healthier basement environment, allowing you to get the most out of your basement space.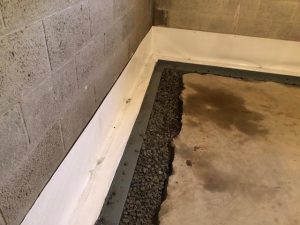 Basement drainage systems are a great way to keep water away from your basement walls. A quality drainage system will direct any water that is entering your home away from the foundation, preventing it from damaging the structure of your home. As part of a comprehensive waterproofing plan, you should have an experienced contractor install a reliable drainage system for you. Sump pumps are also a great way to handle water seepage and flooding. Sump pumps are installed in the lowest point of your basement floor, and when water levels rise, they will automatically turn on and pump the excess water out of the basement and away from your home. This is an effective tool for controlling water damage in basements that experience heavy rains.
Contact the Professionals at Basement Waterproofing Solutions Today! (732) 365-0097